2016 Legislative Win for HDF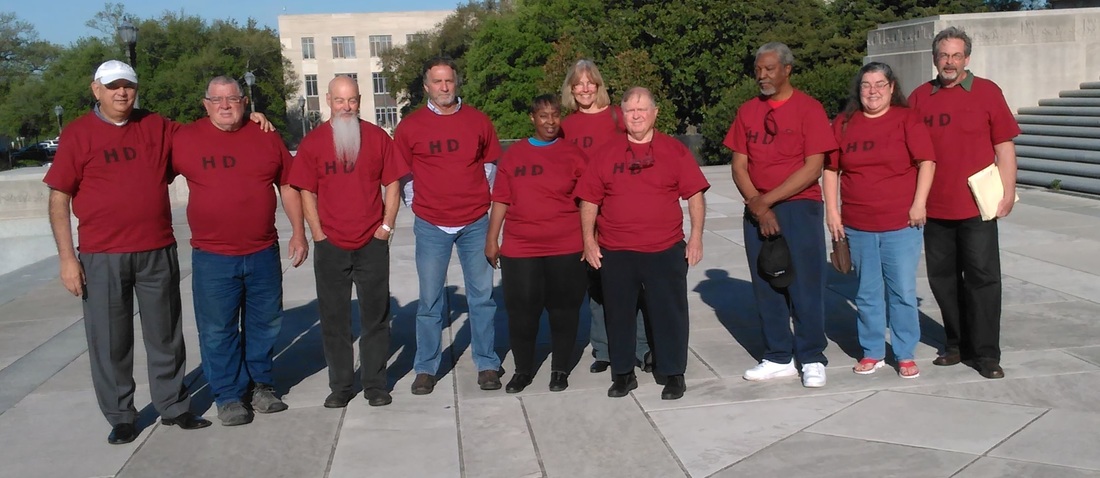 HDF Citizen Activists scored a big win in the State Legislature in April of 2016 when they killed a very bad proposed law. In its original form, the proposed law would have made it illegal to carry a defensive firearm if you were on government owned land used for "recreational" purposes.

So, if you were in a park, on a bike path, etc., you could not carry a defensive firearm, even if you had a permit ! !

Of course, this makes no sense, because criminals don't follow "no gun" laws. Criminals go to parks or streets with guns all the time.

All this law would have "accomplished" would have been to make law abiding citizens defenseless.

To fight it, the ten people pictured above went to Baton Rouge and appeared before the legislative committee that considered this proposed law.

These ten heroes are, from left to right in the picture above: Norman Castillo, Allan Boggs, John Black, Ricky Oubre, Penny Rabalais, Nona Cavalier, Ron Sevin, Calvin Alexander, Lee Ann Rorex and our founder, Mike Weinberger. Also part of the effort, but not pictured, was Roy Richardson.

The ten of us went to Baton Rouge on April 7th. We all met at 6:50 AM in Metairie and then we car-pooled. We got to BR before 9AM and we were the first to walk into the legislative hearing room where this bad law was going to be discussed.

You can bet the committee noticed us in our red HDF tee shirts ! !

Calvin Alexander spoke to the committee on our behalf. Lee Ann Rorex also organized a "card submission campaign" which submitted cards in opposition to the law to the committee. Nona Cavalier and Mike Weinberger were also prepared to speak, but the committee limited us to one speaker, and Calvin did a great job.

Then, the committee, seeing ORGANIZED citizen opposition to the proposed law, suggested an amendment to the law which basically killed it.

The amendment would allow you to carry a concealed defensive firearm on recreational land if you have a concealed carry permit.

Since every law abiding citizen who carries a concealed firearm already has a permit, the new "law" would basically be meaningless. So, in reality, we killed this bad law in its infancy, while it was still in its "committee hearings" stage.

Just to be sure, however, our members then sent out close to 100 emails to various members of the legislature asking them to vote against this ridiculous "law" anyway.

After those emails went out the law, known as HB-693, was taken OFF the legislature's schedule for consideration. That was really an admission that it had very little support. Laws with a lot of support say on the schedule.

And then the legislature adjourned - taking no action of HB-693 at all. So, in sum, WE WON ! ! ! It is about time that ordinary citizens got a BIG victory like this in the State Legislature.

To celebrate, all ten of the HDF members who went to Baton Rouge in this effort received Citizen Activist Awards at our May meeting.

Remember, citizen activists can WIN if they are willing to fight for what they believe in. At HDF, we fight for what's right ! !